A couple of weeks ago I was thinking of how I could continue my running discipline and what the next step would be when I finished my 8-week plan. I have considered moving on to a 10K training plan and that will probably be a future goal. I really like the simplicity of the Spark People plans and was reviewing all the 5K plans when I discovered that...
Week 6 of my 8-week rookie 5K training plan...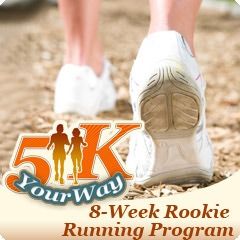 5K Your Way Rookie Running Plan
was an EXACT MATCH with week 1 of the 5-week 5K Running Plan...
5K Your Way Running Plan
So I joined the 5-week Running Plan while still in the 8-week plan and I have been tracking my progress in both plans now for the last 2 weeks. When I finish the 8-week plan this week I will continue with the last 2 weeks of the 5-week plan.
Now I just have to decide what to do after that! :)